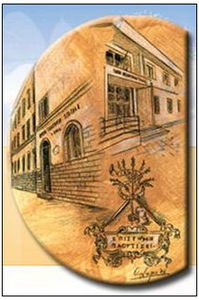 As the festival is coming closer and closer, we will propose you each week a presentation of one of the school that will come next april.
This week, we start with Italy!
The "Vincenzo Lilla" Upper Secondary School was founded in 1950 and bears the name of Vincenzo Lilla, a former Professor of Legal Philosophy in various Italian universities. Situated in the 21st school district of Francavilla Fontana in the south-eastern province of Brindisi, it serves a catchment area which includes Francavilla Fontana and several neighbouring towns. It is close to the railway station and local bus stops.
The institution is a pre-university school specializing in the classical languages, Latin and Greek, but also offering more general courses in all subjects. The standard of education is high and only a very small number of pupils have to repeat a year. There are 387 students divided into 17 classes, each with an average of 23 students. Lessons are from Monday to Saturday starting at 8.05 and finishing at 12.00, 13.00, or 14.00 depending on the class.
An important aim of the school is to raise student awareness of internationalism and our participation in the Comenius programme plays a key role in this by enabling us to develop contacts with schools from other European countries.
From the experience gained in two former projects -: "Towards a Common Understanding of Democracy in Europe; Past, Present and Future" 2009 and "Exploring Europe's Waters" 2010 - we know how positively close and active contact with other European countries enriches our pupils' personal and academic development and raises their awareness of internationalism.