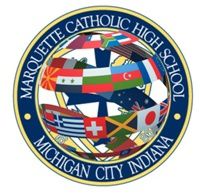 Marquette High School is a Catholic school in Michigan City, Indiana. Located just one mile from the beaches of Lake Michigan, our campus includes a large student's centre, class room building and residential hall.
We are about one hour in driving distance from the city of Chicago. Our current enrolment is at 235, and includes students from more than 6 different countries.
At Marquette we focus on the values of faith, honesty, leadership, respect and service. We are a 4 star school with a 100% college acceptance rate. Last year's graduating class of 2013 went on to more than 35 colleges and universities and received over 3 million dollars in scholarships. We are excited to be included in the Festival of the Arts here in Loches.